The main reason behind this growing popularity of mobile games is the development of instant games. The fast-paced technology has led to the creation of such mobile gaming experiences. This enriching and engaging gaming experience have unleashed the hidden potential of this gaming genre. Undoubtedly, instant mobile game development stores a bright future from a business perspective. Thus, it is making new investors come up with new 2D game development ideas. 
The android game development idea does not comprise the idea and technology only. It also involves the efficiency and the dedication of the mobile game developers. Thus, this makes the mobile game development process quite challenging. It might seem that the process of android game development revolves around game development and testing services only.  However, it is only a myth. The entire process of 2D game development comprises of following steps:-
Pre-development (Requirement Gathering, Analysis, Research, and Documentation)

Mobile Game Designing 

Android Game Development

2D game testing

Game Release

Post-Development (marketing, constant updates and maintenance of the gaming platform)
What is Outsourcing Mobile Game Development?
Outsourcing any services means taking the help of experts by hiring them from other vendors. Therefore, outsourcing mobile game development services from an end-to-end game development company can be a wise decision. This step helps the gaming ventures by shifting their focus on steps such as marketing and player retention plans. 
Outsourcing android game development means putting your gaming idea with expert android game developers. So that these game developers transform your gaming idea into actual games. You can hire mobile game developers from the best mobile game development company in USA and India. Also, game development outsourcing introduces several benefits. As mobile game developers have vast experience to add life to your game.
What Are The Benefits Of Mobile Game Development Outsourcing?
We are sharing some of the most important reasons to choose to outsource your game idea. As this step can improve the quality of games and balance the development process with the game release.

Professional Approach
Outsourcing your game development idea to the 3D game development companies provides a touch of professionalism. The experienced and proficient game development experts participate to smother all the complications of the development process. As discussed above, mobile game development undergoes several stages. By outsourcing skilled 2d game developers, we get such a team who are well versed with the latest technologies. It also extends to an efficient approach and quality efficient solutions.
Outsourcing game development companies impart versatility in the game development idea. Eventually, it adds value to the final gaming solution. As whenever the project faces any severe setbacks then, this outsourced versatile team will come to the rescue. As these game developers have worked on several gaming projects of different genres. 
Flexible Development Process
The outsourced game development company processes every step with proper documentation. This helps the android game development company to create the draft, steps and phases of the game development projects. 
The best mobile game development company always possess backup and adequate resources. This ensures that the progress of the game development is in place. It also ensures that your game development project must not miss deadlines. The android game development companies practice a structured workflow that ensures the quality delivery of every project. 
Diverse Platform Development Process
Time, cost and quality are the prime factors for any development project. Extending time to balance the quality can affect the cost. Thus, the android game development company starts with the most suitable project management plan. This ensures the development of a game for multiple platforms without any impact on triangular constraints.
Multiplatform game development takes a lot of time and energy. As this step involves the inclusion of the right set of developers who can work on game development for multiple platforms. Therefore, game development outsourcing acts as the best decision for investors.  As the game development experts are well aware of the restrictions for the particular platform. This also imparts the right solution for the new ventures with customizable solutions with utmost accuracy. As mobile game development outsourcing helps your venture by providing the right team. This team possess the most skilled and proficient game developers to handle diverse tasks.
Assured Quality with the best Game Testing services
No player will engage with the faulty system with distorted gameplay. Thus, the quality of games plays an inevitable part in the pre-production process and outcome. 
Hence, to sort out this issue, marketers and experts recommend outsourcing the mobile game development project. As the end-to-end game development company consider the role of game testers prominent.  The investors can hire game testers also to test their gaming projects independently. 
At the best game testing company, Creatiosoft, Our game testers impart the following services.
Auditing of Game

Game Quality Assurance

Testing of Game

Also, Consultations for the game quality..
The end-to-end mobile game development companies ensure the right gaming solutions with zero concerns for safety and security.
Leverage the Market and Gaming Industry Knowledge
The mobile game development companies do not only share technical expertise. Such organizations have long years of experience in the gaming industry. The game developers also possess knowledge of ongoing trends and modern gaming mindsets. Such 2D game development companies offer to assist you in promoting, branding and marketing your game as well.
The skillful research helps in targeting the right demographics for your aspiring players. This comes as a huge help. As the best unity game development company drafts out the marketing plan for your game. 
Delivers the Cost-Effective State 
As discussed above for the three constraints. The cost plays a crucial role. Before consulting any mobile game development company, you just need to have a rough idea of the budget. If you choose the in-house game development in the initial stage of your business. Then, it is going to cost a lot due to the following reasons.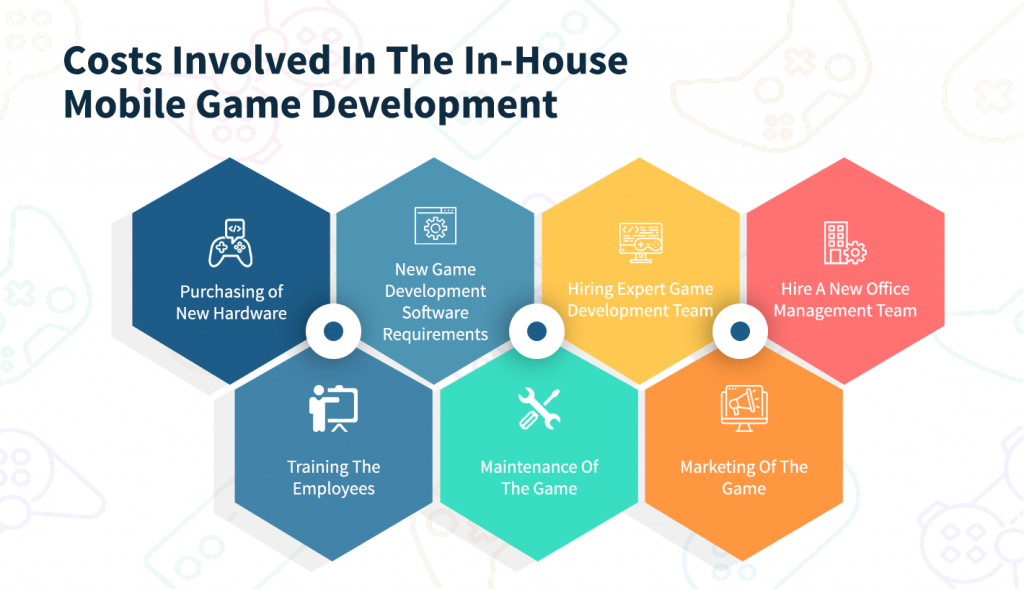 Purchasing of new hardware

New game development software requirements

Hiring expert game development team

Hire a new office management team

Training the employees

Maintenance of the game

Marketing of the game
With outsourcing, you can save costs on the following factors
Purchase of hardware and software

Office management resources

Training
Precisely, the expenses will be to hire game developers, testers, etc. Also, another portion of the budget will go for the maintenance and marketing of your game only. As the best mobile game development company has efficient game development resources to translate your idea according to your budget. 
Although, you can go to the lengths of expanding your budget with in-house mobile game development. Still, there are chances that you might miss the risks and vulnerabilities in the game development process. This may affect the game quality, and take more time It will incur more cost, disrupting the three constraints of the project management. Hence, we put slightly more force into mobile game development outsourcing to establish your mobile game.
If you are looking for the best mobile games development company to outsource your game idea. Then you can connect with us through the contact form available at creatiosoft.com. You can also send an email directly to sales@creatiosoft.com or WhatsApp or call us at +91–8860912115.
Frequently Asked Questions
1. Which game development engine is preferred by Creatiosoft?
At Creatiosoft, we develop games using Unity, Cocos2D, HTML5, PixiJS, and Phaser.
2. What genres of game development services do you offer?
We offer a variety of mobile game development services. These services include the following games development services:
Casual games, 

Casino games (Online Bingo, Slot and Baccarat Game Development), 

Card games (Rummy and Poker Game Development) & many more.
3. Why one should choose Creatiosoft for mobile games?
We have been developing mobile games for almost a decade. We understand and do a proper study of the market trends, requirements, and growth equation closely. Our mobile games have garnered lots of attention. Our games always have the potential to attract the attention of mobile gamers. All of these factors make us a legitimate choice for mobile games development and distribution
4. How to contact Creatiosoft to discuss your game development project?
You can connect with us through the contact form available at creatiosoft.com. You can also send an email directly to sales@creatiosoft.com or WhatsApp or call us at +91-8860912115. We will revert you by mail or call you for your request.